Today, we will know about best android launcher for 2020 and related to this all questions. Every smartphone or android users want to make his/her mobile stylish. Mostly, the smartphone looks better while using, due to launcher only.
When you buy new any brand of android phone, then the default launcher is there. But after sometimes, you want to change it and to make more designable. So, you need  best android launcher which run lightest, smoothly and fastest. So, specially i will tell that which launcher you should installed in your device.
By the way, you will know about the Android launcher But if you are not knowing about launcher, don`t worry. That also i am going to mention about all related to launcher. Through the help of launcher you can can customize your  android smartphone.
So, firstly i well give the list of launcher. Then i will tell about launcher of android in full detail. so, to know full information about this topic, continue reading to below.
Best Android launcher for 2020.
1.Smart launcher 5
It is the best free launcher for all android mobile. It is available in play store from there you can install it. when you will install and apply in your mobile, your home screen look will be changed from previous. Many of the things will changed such as app icon, the way of displaying your all app. The app will start displaying in your home screen by the categories wise.
All the categories are given such as of communication, internet, games, media, utilities, setting. you can change the app icon image from your gallery. Many of the customization you can do by yourself by visiting in Smart launcher`s setting such as app lock, adding categories, widget pages, gesture etc.
2. Apolo launcher
[
video call without showing your number
]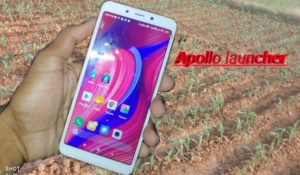 Apolo launcher is a unique launcher and also it is the fastest. There are many feature you will able to see. Here you will not get customization automatically but you have to customize it by yourself. All the settings are given. so, let`s know that what are the things you can do.
If you want to make more stylish, you have to go in setting. when you will come in setting, all feature is available here only. such as of appearance, app drawer, dock, weather. It is the best android launcher for 2020
The important thing is that there is option of battery consumption. so, that your mobile will run for long time from previous. you can make changes of folder styles, control of animation speed. you can display the list of app in vertical and as well as in horizontal.
Apolo store will be automatically installed, when you will install this app. You can download app and game from apolo store. When you will scroll down your notification bar, you can see that how many RAM has used of your mobile and how much time you have spend in which app.
3. Line launcher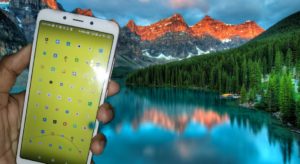 Line launcher is a simle type of launcher. It has downloaded by over 10 millions people. here also many features available to make home screen interface attractive.you can change font, lock screen, battery saver, home editing. phone boost option is also available their to run fast.
What is launcher in Android ?
A launcher is an one type of app which enable us to customize our home screen and to make  professional design. If you have a low grade or low price of mobile, then also you can make it`s interface better through the help of launcher.There are many launcher available in playstore. Each launcher have a unique and attractive design.
Is it safe to use launcher?
[Best cooling app for android]
first thing, i will tell you that launcher is an app. if you will install any app and launcher, it will ask permission. To install and utilize it`s services, you have to give permission. if it will take permission, all the data of your mobile will be shared to the app developer.
So, if you want safe to use launcher, you will have to install launcher of high authority of developer. The launcher that i have told is safe.
[
Mantra vs morpho device
]
Does launcher affect performance of android mobile?
Yes, any launcher can affect performance of android mobile because if any app installed on mobile, it  will consume RAM and processor. When the RAM and processor will be utilized, your system will be slow. Thus, in this way Android  launcher affect and it is myth that launcher make mobile to run faster.
[
best mobile recharge commission app
]
Finally, i would like to say that you have understood about best android launcher for 2020. I have shown the images of launcher and if you like then you can download that launcher. So, if you like this article, please share to your friends.