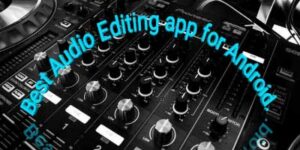 If you want to edit your audio and want to make it professional as you want, then you are in perfect place. There are many apps in the playstore for audio editor but i will tell the best ones. So, Today i will share about best free audio editing app for android phone through which you can do editing or mixing of any song or voice in high quality sound.
In this post, I will tell you such apps by which you can easily edit your recorded voice or song. So, let`s know that which are the best audio editing software for android to make sound in high quality and effects.
So, let`s know that which are the best software for audio editor in android ad how to use it ?
Professional Best audio editing app for android phone
1. FL Studio Mobile
It is one of the amazing audio software for android as well as for pc also. But the version is different for pc. If you are knowing about fl studio mobile, then Don`t think that it is paid apps. It is paid in playstore but through some trick you can download fl studio free for audio editing.
I have already written in one post to download fl studio free in android phone.There are many tools are available in fl studio to edit a song. You can`t believe that what kind of editing you can do from the android audio editing software.
(1) You can record a vocal in high quality and in many effects from this app.
(2) You can also change sound in child voice, female etc.
(3) You can repeat the sound anywhere from between your song easily.
(4) You can remove extra noise from the song or voice.
(5)  You can play a many sound at a one time by a layer wise and can adjust a volume of each song.
It also have many basic features to edit a audio sound and is available in playstore in free. It is mostly famous because it takes less time to edit. because all the features is available by list wise. You would not have to find any tools in deep. Just open the app and select the features which you need from the list.
(1) You can change the album/art of song.
(2) You can change the format of song such as mp3, mp4, wav, etc.
(3) You can trim a special part of song and make it as a ringtone.
(4) You can merge multi song in one song directly without stopping.
(5) Speed changer option also avilable through that you can fast or slow audio where you want.
(6) Silence remover helps to remove the gap which is without any sound. For example : if the song has has gap in between, then it would e removed and next part of song would be play directly.
(7) Text to0 speech helps to convert text into voice. You can also make a dj voice tag. It is the best feature.
(best cooling app for android 2020)
3. Lexis Audio Editor  (best audio editing app for android)
It is also the best voice recording and audio editing app for android phone. You can not edit the song but you can record your voice in high quality through lexis audio editor app.
If you are recording a voice where there is noise, then also you can record a voice and the background noise would be automatically removed. You can adjust a DB features to remove background noise.
If the sound is somewhere slow and somewhere high, then you can fix it at the fix volume with the help of compressor. So, you can compress a audio or voice using this app.
If you recorded a voice and there is noise in background, then also you can edit it. You can also adjust the equalizer of voice to improve voice quality.
(change bvideo background from mobile)
Conclusion :
I hope that you have understood about best audio editing app for android. By knowing this, I hope that you can able to make your sound better.
FL studio mobile is the best audio editing software from the following. i also use  to edit any song, then i also use this app.
If you don`t know that how to edit a voice in the following apps then you can learn by watching videos from the youtube.
If you are are content creator, then you should know that how to edit a audio and make it in high quality. 
Many of them are interested to edit audio but some of them don`t get the best professional audio editing app in mobile.
If you think that any useful content you got from this article then please comment and tell. or if you have any problem or query you want to ask, then please contact me or comment, the reply of your comment would be given as soon as possible.