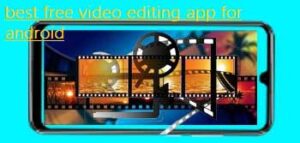 Do you want to know that what are the best free video editing app for android ? If you want to know professional video editing app for your smartphone, then you are at the right place. The way you can edit your video in computer as same way you can edit video in your smartphone. Nowadays you know that whatever works you can do from pc as same work you can do from smartphone.
By the way, There are many apps available in playstore or other store to edit videos. But, you can`t get perfect apps to edit videos as you want to edit or make your videos. You spend your time to get best one for video editing android apps. So through reading this article, you would not have to know that best video editing app for android phone or smartphone.
If you capture the video from any special places or party, you want to make it better. or if you ar youtuber, then there is the most necessary to edit videos for improving voice of video, cutting any part from video etc.
The list of best apps which i am going to tell, the some feature of apps are paid but i will tell the tricks to use in free. So, don`t orry for paid apps. Here you will get all the free best video editing app for android phone. So, let`s know that which are they :
2 best free video editing app for android
Kinemaster is the most amazing app compare to every video editor apps in android. It has the many feature to edit your videos. The way you think or want to make your videos as you can make from kinemaster app. Once you downloaded this apps in your smartphone and you catch better to use, then i hope that you would not delete it from your mobile.
Kinemaster is a free version for all the beginners but chroma key and video layer option  is paid. But this also i have told in one post to download it full free version, so that you can use chroma key and video layer option in free. Click this link to change video background from kinemater in free and to use video layer in free. If you don`t know that what is chroma key and video layer, don`t worry. I will tell about all the features of kinemaster to edit your videos.
Features of kinemaster video editor app
1. You can remove background from your videos through chroma key features. If you are beginner note that chroma key helps to remove background of videos.
2. It provides to remove & change audio or voice from the videos.
3. You can change voice of videos in different effect such as in child, male, female effect etc.
4. It provides to add or play videos, images, text etc. in multiple layer. Suppose if you want to play two or more videos at one screen or videos then you can do it.
5. You can make videos from a photos and you can add a song.
6. It helps to add text in many effect and stylish.
(How to do Video call without phone with email)
2. Power director – free video editing app for android
Power director is the best video editing app for android and as well as also for window. It provides best and professional stylish transition effect compare to kinemaster app. So, if you want best stylish transition effect then you can use this app.
You can cut any part of the videos from this app and it is so easy to use as compare to kinemaster. Some of the features which are available in kinemaster as same same some available in power director also. It also provides chroma key function.You can reverse your videos. This option is also available in previous apps.You can edit video as in slow or fast motion by controlling video speed.You can add photos, video, text, sticker, overlay etc. in the video with the animation effect.
If you edit your videos and save it, then watermark will come which will be written as 'power director' in the right bottom side. If you want to remove it, then it is premium. But also you can remove watermark by using free version of powerdirector. So, if you want to download full version of powerdirector, please comment i will help you.
Conclusion :
I expect that you would understood well that which are the best free video editing app for android. By reading this article, you would not have to find the perfect and best video editing app by installing each app. Your time and internet would be saved by reading this article. Kinemaster is the best one, so i have kept this in top 1.
User experience of kinemaster application is better than powerdirector but to cut videos from any part, powerdirector is better compare to kinemaster.Good and stylish transition effect is not available in kinemaster but it is available in powerdirector software.
If you get any problem related to this topic or article, please comment me. The problem or query of our answer would be given by us as soon as possible.