Hi guys, Do you also want to change video background from your Android mobile ? If you don`t like the background of your video, then you can easily remove or change it.
You can make such a video that your friends will feel that you are making video in a city or any mountain.
This type of video you can make without going to that particular place by editing that video. Many of the people think that video background only can be changed by computer or laptop.
But It is not like this, you can easily able to make your video better through mobile.
There are many application available which allow us to change video background in mobile. By the way, there are many apps but you will know to remove video background from two best Android application.
They are Kinemaster and Power director video editing Android apps.
You should know that removing & changing background of video is done by Chroma key features. Do you know that what is chroma key features? If you  don`t know let me tell you in a short.
Chroma key is that feature which allow user to remove color from background of video and to replace new images or videos as in background. In simple sentence, i hope you have understood in better way. (Jio phone video editor)
How to change video background in mobile from power director?
Power director is also a best video editing application like a Kine master apps. The features which are given in kine master that same features are available in Power director. But the way of using or user interface is different to each other.
The most amazing features of power director is that chroma key option is free. Just by installing from playstore, you will be available to use chroma key features in free. No Need to download any mod apk version of power director.
Steps to Change background in mobile through power director application :-
Go to playstore and install "Powerdirector" android.
Open power director app in your smartphone and Tap to "New Project" icon.
Type the project name according to your wish you can type any name as you want.
Select the video aspect ratio. So, select according to your need. Option will be available such as 16:9, 9:16 and 1:1.
Select the images or videos which you want to keep as a background.
Tap to layer icon and select the videos which you want to change or remove background.
Select the videos of which you want to remove or change video background in the down layer section.
Tap to edit icon, it is like a pencil icon.
Scroll to right side and click to Chroma Key option.
You can adjust through color Range and Denoise option.
To save or export of changed video background, Tap to Right top arrow icon. Tap to according to your need such as if you want to save in gallery or upload on youtube.
If the background of videos is Green, then green part will be automatically removed. No need to adjust but by chance if it not match, then you can adjust through setting.
Other Video editing features in Power Director are given below :-
Speed control :- You can set videos in slow or fast motion by using this features.
Adjustment :- Brightness, contrast, Saturation, Hue, Temp, Tint, Sharpness adjustment can be done in video.
Effect :- Many effect are available which you can apply in your videos.
Skin Smoothen :- Through this features you can increase skin smoothness and make a look up white face of person.
Voice changer :- You can change the sound or voice of videos such as in man, woman, child, robot etc.
Crop, Rotate, Flip, Reverse, Filter, Audio mixing, Fit & fill, Pan & Zoom etc. other many features to edit videos are available.
How to change video background in mobile from Kinemaster :
This kinemaster app is available in playstore of your mobile. Kinemaster is a free and as well as paid also. It means to say that some of the features of kinemaster software are free and some premium.
To change or remove background of video you need chroma key features. As i told about this feature in above only.
So, chroma key feature is premium and through this only you are going to remove Background of your videos. If you will download from playstore then you have to enable feature of chroma key. To enable this feature you have to purchase it.
If you will install kinemaster mod apk on your android then without purchasing anythings, you can use all features in free.
Kinemaster prime mod application is not available in playstore. How to download kinemaster mod apk to use all features in free, i will tell you later onward.
Kinemaster mod apk download for android : To use chroma key in free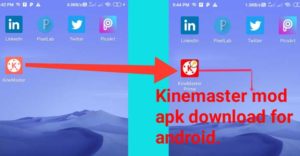 If you don`t want to invest money in purchasing kinemaster of some paid feature. Then also without paying money. you can use all features.
The extra features will be enable by this app are : Video layer, chroma key and watermark will be removed from editing videos.
Steps to download kinemaster prime mod apk in your android mobile :-
To download kinemaster mod apk to use free chroma key, click here.
When you will click to 'here', you will direct go to your google drive download page.
Click to download button.
As you will click, your application will be start to download.
When it downloaded, install on your android mobile. It will be in download file or in google drive application of your mobile.
Steps for How to change video background in mobile through chroma key :
Open your kinemaster application in your android mobile.
Click to new project (+ icon ).
Select the ratio of your project. (For youtube = 16:9, Android mobile = 9:16, Facebook =1:1)
Now, you will come in homepage of kinemaster app. Click to media browser and choose background which you want to put in your videos.
Click to layer and then click to media option. Now, choose by clicking that video from which you want to change background.
Select videos and scroll down tool box which is in right side. Click to chroma key option.
Click to enable chroma key option.
As you will enable that feature, the video you have selected that`s background will be changed. And the background images you have selected that will be added in background of your videos. There will be also option to adjust chroma key.
Now, to save the videos whose you have change the background, click to share icon which is in left side. You will get option to save video in gallery and to share in youtube, facebook, google plus, drop box.
Click anyone according to necessary. Select the quality of your videos. Now, exporting will start. In this way, you can export/save your edited videos in kinemaster.
Remember : You can only change video background from chroma key features, if videos background will be green or any single color.
So, let`s know that how to shoot video in green screen, so that it`s background will be green ?. If video background will be green, then you can easily remove background of your video.(how youtubers earn money)
How to shoot video with green screen at home ?
As you have seen when you go for passport size photo, photographer capture your photo with background as blue or green single color of curtain. Same way by putting single green curtain, you can shoot video as green screen at home.
Many of them search that how to change video background without green screen ? I want to tell you that if you will do in computer then also there is not any method to change background without green screen.
You can put other single color also such as blue, red etc. But green color helps to remove background clearly. If the wall of your house is painted in green color, then also you can use chroma key features.
Hence, i expect that you have understood clearly to shoot video with green screen at home. (Flash your android phone)
Conclusion on How to change video background in mobile?
I appreciate that you have easily understood that how to change video background in mobile. I have told only to remove and as well as to change background of your videos in kinemaster apk.
But also you can edit video like professional editing in kinemaster & powerdirector mobile software. Nowadays same video editing features available in computer as well as in android smartphone also.
I want to say that i don`t think that there is best video editing android app other than Kinemaster and powerdirector application.
If this article makes you helpful, then share it to your friends. Good bye ! we will meet in next post.