Common service center (CSC) is the best way to earn money for VLE. Now-a-days, It is very easy to apply online CSC new registration 2020. You can get your CSC id & password withing one months. It provides many online works to do. you can earn more commission by providing more services to the people.
So, today we will discuss about Full process of  CSC VLE (village level entrepreneur). All online services, VLE can provide to the people of villages and city. In hindi, common service center is known as Digital seva kendra or jan sewan kendra.
The government of india wants to make digital india. so, government provides center for online works in every villages and cities.If you want to know full process of csc registration, then you continue reading. you will be told steps by steps.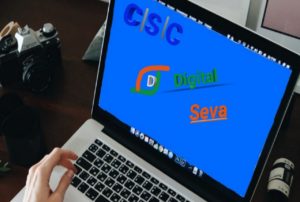 Apply for online CSC new registration 2020 – Digital seva। CSC VLE ।
In 2019, You can apply for CSC VLE without any certificate and free of cost but in 2020, you need telecenter entrepreneur course (TEC) certificates number. The fee for applying TEC certificate is RS.1479/-. All VLE should have a TEC certificate.
It shows the proof that VLE is eligible to get a common service center and he/she can manage all the services. While submitting online tec certificate form, you have to give exam also. Then only you will be permitted for CSC new registration 2020. Firstly, you have to register to get id & password and you have to login to download tec certificate.
so, Let`s know that how to register & login to download tec certificate.
1.How to Download TEC Certificate ?
Register for TEC :-
Firstly you have to register for tec certificate to get id & password to log in tec portal. Steps by steps all the process are given below.so, let`s start by point wise-
 Firstly, you have to visit official website of csc or click to

csc

. when you will click to that, you will be redirect into official site.
In the right side of page. under the

csc network sites

, click to CSC Registration.
After clicking that a new page will be open. on the center of the pages, click to apply and then four option will come. you have to click last option that is TEC certificate.
Then, click to Login with us.
Below the certificate course entrepreneurship (CCE), there will be two option. you have to click in Register.
After clicking that, one form will be open in new page. You have to fill your detail information such as Name, Mobile number, Email, father or husband name, state, district, address, gender, Date of birth and upload your photo.
When you will completely fill the form, click to submit button.
After that a payment page will be open in which you have to pay Rs. 1479/-. All option will be available such as debit, credit, internet banking etc. through that you can make payment.
select the option of payment method and click to make payment.
when the payment will be success, you will get bill (slip) in which there will be username & password (copy this) generated to login for CCE.
 login and Download TEC certificate :-
click to login with us. It will be appeared below the bill page.
click to login under the CCE section.
Enter the username and password which you have got when payment success. ( Remember- your mobile number will be your password)
click to login and the all features of tec or cce will open. ( Don`t confuse about tec and cce, both is same)
firstly here you have to learn or understand all courses. so, click to learning. 10 different modules (topic) name will come which you have to learn by looking videos or reading pdf. ( both languages available for learning)
After learning, you have to give exam which will be in online mode. so, click to Assessment, 10 modules will be appear in different topics. each modules will have 10 question. total you have to give exam of 100 questions which will be in both languages. It will be like Multiple choice question (MCQ). so, you have to give exam by clicking modules one by one . You have to choose correct answer and click to next question. you will get 60 seconds to answer each questions.
When your exam will be completed, you can see that how many marks you have obtain.
after 3 to 4 days, when you will come back in dashboard page. Assessment completed – 10 will be appear and download certificate option will display.
click to download and your TEC certificate will be loaded in your download files.
2.CSC new registration 2020  – Apply online
when you will have tec certificate then only you will be eligible to apply csc online. Follow the points which are given below for csc new registration 2020. so, let`s start by step wise –
visit the online portal of csc and click to csc Registartion.
click to apply then again click new registration.
select the application type. There will be three option for registration. They are VLE registartion, (SHG) self help group, (RDD) Rural development department. you have to select first one.
 As you will select registration type then it will ask TEC certificate number. Enter the number which is in your certificate.
Enter the mobile number and fill the captcha code which will be display there. click to submit button.
Fill the otp (one time password) which will be sent in your mobile and email id. again enter the captcha code and click submit.
Enter (VID) virtual id. ( you can see your vid number in adhar card)
Fill your name, select the gender, Date of birth, state, district, location type- rural/urban, Authentication type (verification method) – OTP/FMR/IIR and captcha code. After filling detail, click submit.
Now, it will go to verification page. you have to tick the consent statement and click to generate otp. Now, fill the otp which will be sent to your registered email and mobile number. click validate otp.
3.CSC Authentication process :-
Again one type of form will come. upload your images under 20 kb, kiosk (shop) name. fill some detail about your shop such as street, sub-district, panchayat, village, pin code, police station,post office.
point on map of shop address.
scroll down your pages.Now, you have to fill your PAN card detail such as you have to choose pan type individual and fill PAN number. click verify and after verifying it will show pan card successfully verified 100%.
Give the bank detail such as account type  – saving/current, account holder name, IFSC coe, Account number and you have to upload your cancel cheque or passbook images within 10 kb.
Scroll down and fill the KYC (know your customer) document such as select the document – Aadhar card, driving license, job card, passport. upload document images. it should under the 80 kb.
Tick the consent (agreement) and click submit. After submitting, your application will be submitted successfully and one type of receipt you will get in which there will be CSC Application reference number. Hence, your application for CSC will be sent for approval. If all documents and information will be correct, surely it will approved.
4.How to Check CSC Application status online ?
1.visit the official website of csc and click to csc registration. click apply then click to csc status check.
2.Enter there reference number of csc application and also fill the captcha. click submit.
3.your status will come. ( if the application approved then digimail, csc id & password will be sent in your email.)
5.What are the benefits of CSC registration?
When the CSC registration completed, through the CSC id & password, VLE can provide many essential services to the people. It gives the services of AEPS (Aadhar eanbled payment system)  and many many works related online. You can use digipay apps or it`s online portal. By providing helpful online works to people, VLE can earn more commission.
Also read:-
Aadhar money withdrawal and balance enquiry.
Best Recharge commission portal.
Best 20 Aeps Apps for adhar payment
6.What are the services in CSC?
Education :- VLE can teach online study and computer course to  the students. He/she can provide many services related education.
Agriculture:- he/she can provide many subsidy related agriculture, horticulture etc.
Insurance:-  he/she can do health insurance of person , motor or vehicle insurance etc.
AEPS system:- he can make payment from Aadhar card, checking balance enquiry,Money transfer etc.
job card:- labour panjiyan, related nrega all online works.
[
VLE
can do all online work of panchayat ]
I hope that you have understand about CSC new registration 2020. I have tried to make understand in easier way by giving full process and in simple languages. If you feel good by reading it then please share this post to your friends.