If you have a youtube channel, then you should know to customize url of your youtube channel. There are many benefit you will get by creating a own custom url.
If you share your youtube videos to your friends through any social media platform, then it`s url  goes with too long. So, it will not look good due to too long youtube channel`s url. If the url would be a personalize as a custom link of your youtube channel, then it looks professional like website.
if you want to share a link of your youtube channel to your friends, then you have to open your youtube channel to copy link. but if you have created custom url, then no need to copy url. Just you have to type and send it.
There is not any other tricks to make custom url. The system to make custom url of your youtube channel is designed through youtube program. So in many things you have seen that to enable any great things, you need some of the eligibility requirement such as to add join button, to monetize with google adsense, live stream etc. on youtube.
In the same, there is the some of the minimum eligibility requirement to get custom link of youtube channel. So, let`s know that what are they :
1. Firstly, your youtube channel should be at least 1 month old. It means your channel age should be minimum 1 month.
2. Your channel should have minimum 100 subscriber.
3. There should be a logo or any picture in profile of youtube channel.
If the following criteria meet of youtube then only you are eligible to get youtube custom url.
What is youtube custom url ?
If you have a home and someone want to visit. but unknown person don`t know your house number, then that person would visit in late. If he/she would know house number, then he/she would can reach fast. It means that house number is the proper address of home.
In the same way if you don`t have a custom url (uniform resource locator) of your youtube channel, then there will be little problem to reach in your youtube channel. So, if you have a youtube channel then you should have a custom url, so that visitor can reach fast. It means you should have a proper address of youtube channel.
Example of custom url and previous url are given below. You can know by looking below example that what is custom url :
1. Previous url : https://www.youtube.com/channel/UCqrWNHoO9lK5BXyY98Y8UGw
2. Custom url : https://www.youtube.com/Rohitkush/videos
The url which is given when anybody create new youtbe channel, that is too long and can`t remember anyone easily. Whereas Whe the url changed as a custom url is too short and easy to remember.
The custom url in youtube is also known as by custom url, vanity url, Brand link etc.
How to customize youtube channel url : Setup step by step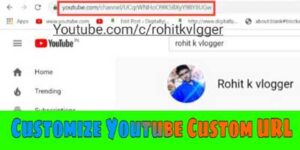 You can follow the steps in your mobile as well as in Laptop or computer also from chrome browser. If you do in mobile then enable desktop mode.
1. Open the chrome browser in your mobile or computer.
2. Open the youtube and login with your gmail account of youtube channel in which account you want to create youtube custom url.
3. Click the logo or profile picture of your youtube channel on the top right corner.
4. Click to advanced setting option.
5. As you click that then you can see Custom URL option.
6. If the channel is not eligible then you can see there – 'This channel is not currently eligible for a custom url'. If channel is eligible then this message will be display – 'You're eligible for a custom URL claim it here'.
7. Click to claim it here link.
8. Now, according to your youtube channel name, link would be already replace after www.youtube.com/. For example : www.youtube.com/channelname. If you want to add more after your channel name then you can add my clicking second option 'suffix'.
9. Click to consent and again click to change url.
Now, your Custom url of youtube channel would be created. You can share your custom url to visit in yyour channel to your friends.
How to change youtube custom url :
Earlier you could change the youtube channel url (link) only once. But now according to latest update of youtube program, you can change it 3 times in a year.
So firstly, you have to remove your custom url and then you have to follow the process as you had done to set up custom url for the first time. Follow the steps to remove custom link and to claim a new one.
1.Open the youtube and click to icon of channel.
2. Tap to setting and then click to advanced setting.
3. As you click then you will be display link of your custom url. Click to learn more link which is beside of – 'Our custom url has changed'.
4. As you click that, you would be redirect into youtube support page. Scroll down and click to ' Remove custom URL and claim a new'.
5. Click to 'About me' link which is in the first step.
6. Now, you would be entered into about me of google site. Click to edit icon which is right side of 'site'
7. You can see your custom url and beside of that cross option to remove it. So, click it.
8. It will ask again to continue to remove your custom url. So, click to continue and then ok.
Hence, now your custom url of youtube has changed and now you can setup a new one. So, setup new one which you want to set by following above procedure or process you have done for the first time.
(play youtube in background without any app on android)
Is it possible to get youtube custom url without 100 subscribers ?
Many of them don`t have 100 (hundred) subscriber and they search 'how to get custom url without 100 subscriber'. I want to tell them that there is not any manual way to customize custom url. Wait and increase your subscriber upto 100 to enable it.
Conclusion :
I hope that you have understood that how to customize youtube channel url and to change it again. If you are youtube content creator then you should enable custom url.
It is easy to remember, easy to share by just typing, looking professional, if the anybody searches on google or internet the name f your youtube channel, then the result would come fast. These are the most benefit you will get.
If you get problem related to any query or question, then you can ask. The reply you will get as soon as possible. I have tried to give you information in easy way.