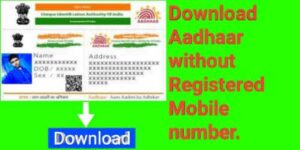 If your Aadhaar card is lost and the phone number is not even linked then there is no need to take tension. You can download your aadhar card without registered mobile number easily. There is no need of otp (one time password) to download aadhar.
If you are getting problem in downloading your identification card as aadhar card then your all problem would be solved and you are in perfect place.
There are many ways to download or reprint aadhar card without linked mobile number.By the way, I hope that you are finding a way to download aadhar card without registered mobile number by yourself.
It means you are searching a way to download aadhar without going to aadhar enrolment center (aadhar sewa kendra). So, i will tell you that how to download aadhar card without registered mobile number or otp.
You can order your adhar card of hard copy as anyone get new aadhar which you will get through post office.or you can download it in pdf document as a soft copy in 2 minutes which you can print out.
How to Download aadhar without registered mobile number with face authentication ?
By the way, you will know that you cannot download Aadhaar card without any proof  and no correction can be done in Aadhaar card. When your new Aadhaar card was being created, you would know that what they take proof.
So through face authentication, you can download aadhar card by showing your face to the camera of mobile or computer system. So, that uidai website or computer can easily identify that you are really aadhar card holder.
If you want to do correction or any updation on aadhaar card then without registered mobile number, you can`t do any changes. So, if you can know by clicking this link. How to register mobile number in Aadhaar card online?
Step by steps :- Download aadhar with face authentication from mobile or computer system
1.Go to official site of uidai that is https://eaadhaar.uidai.gov.in/faadhar/#/ from your browser.
2. Enter your Aadhar number/Virtual id/Enrollment number anyone which you have.
3. Fill the Captcha Verification.
4. Click to Face Auth option.
5. Now, one pop-up message will come in which there will be instruction related to capturing face of card holder. Note : Your face should be capture clearly, so that computer can identify easily.
6. Click to Ok below of instruction.
7. Give permission of camera to the browser of mobile or computer to capture a photo. So, click to allow button to give permission.
8. Capture your photo clearly by following instruction.
9. As photo would be captured then one survey will come.
10. Choose no option in 1st survey and not ordered in 2nd survey.
11. Click to verify and Download.
12. Now, your aadhar card would be downloaded in your mobile as a PDF.
13. When you would open pdf file then it would ask password. The password will be First four letter of your name and birth year of four digit. For example : ROHI2006
When you would filled password, then you can see your aadhar card and can print out it easily. It is the best way to download aadhar card without registered mobile number.
Nowadays you know that wherever you are there is the need of an Aadhar card as a identity card. If you need an Aadhaar original or photocopy at some place and you do not have an Aadhaar card at that time, you may face problems. But by using above method you don`t have to face any problem, just you have to download aadhar by showing your face at 2 minutes and can print out from any shop nearby.
How to Download Aadhar card without registered mobile number using order Aadhar reprint service ?
Through order reprint service you can get your adhaar card as a hard copy from post office. After placing the order, within a week your Aadhar card will arrive by courier to the address given in Aadhaar. It is the paid service i which you have to pay some of the charges to uidai website to get hard copy of aadhar card.
Note : if you are doing the process which is given below in mobile, then you have to do from Mozilla firefox browser. Because you can`t fill the captcha code in other other browser such as chrome, uc browser etc. So, download mozilla firefox browser to download aadhar using order Aadhaar reprint service.
If you are doing in your computer or laptop sysytem. then any problem would not come in any browser. So, you can any browser in pc to follow this process.
(Top 20 Best Aeps app for Aadhaar payment)
Steps to Download Aadhaar using order Aadhar reprint service :
1. Visit to official site of uidai – https://uidai.gov.in/
2. Click to 'Order Aadhaar Reprint' link in the get aadhar section.
3. Enter your Aadhaar number or virtual id.
4. Enter security code as a captcha code.
5. Tick the 1st option in wguch there will be written – If you do not have a registered mobile number, check the box.
6. Enter any non- registered mobile number in which otp will come.
7. After entering mobile number, click to send otp.
8. Enter the otp which will be sent in mobile. Check terms & condition and click to submit button.
9. Clic to make payment.
10. Now, you have to pay Rs.50/- from bank through internet banking or debit card.
11. As payment would be completed, you will get slip. So, click to acknowledgement slip option to download slip.
(Aadhaar Withdrwal and balance enquiry by paynearby apps)
Conclusion :
I hope that you may understood that how to download aadhar card without registered mobile number. The method which i have told through that your problem would be solved as soon.
I have given two method to download aadhar without an otp. According to requirement, you use any method. First method is the best way to download e-aadhar.
Many of them search that aadhar card download by name and date of birth. But let i tell you that,you can`t download with date of birth & name. because If this happens, anyone can download your Aadhaar card which is for privacy or security.
If you are getting problem to download e-adhaar without linked mobile number & otp, then please comment and tell your query. The reply you would get as soon as possible.
Please connect with blog to get latest technological information and helpful tips.