Do you also want to get call history of number ? By the way, If you will search in youtube that how to get call details of any number in india, then they will tell you to download some app from playstore. When you install and open, it ask permission of your call log. The app shows the call detail which is present in your call log. So, you should not follow this tricks.
Many of them have a questions that Is it possible to get/check call detail of Number ?. It`s answer is not accurately because it depend on the operator of sim card. Some operator of the sim card allow to check usage of data by the help of operator`s (brand) officially app or website.
How to check call history of a number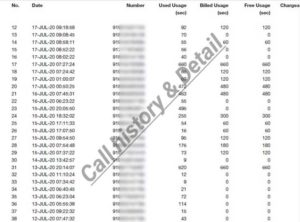 It depends that type of connection – prepaid/postpaid. If the type of connection is postpaid then you can easily see/check your call history through the bill statement of your postpaid. But in prepaid some of the operator doesn`t allow to see statement.
Some of the sim card`s operator provide to see data usage to the customer and some don`t provide. Through the data usage, you can check call history of your number. The important thing is that OTP is needed to check call detail. So, we will know about to check call detail of some of the operator such as of Reliance jio, Airtel, Vodafone, Idea etc.
In the call detail you can see mobile Number to which date & time you have call and how much times. Hence, you can track mobile number call details easily. (Install software in mobile)
jio call history details online
Reliance jio sim allows customer to check call history of mobile number online free. You can see call detail upto last 6 months. The method that i will tell you that is genuine and real. I have already told that there is possible to check call detail through official site or app of operator`s sim. So, for jio call detail, there is two method to see. Call history of mobile number online through official website and by the app of my jio.
Jio call details without otp is not possible. You should have your jio number, so that you can fill otp for login. If you have deleted your call history from your phone, then also you can see detail of your call and number. It doesn`t show result from your call log of phone. So, let`s start that how to check call history of jio number. (Best cooling app 2020)
Get call history from My jio website and app.
1. You have to visit to my jio official website or Download My jio app from the playstore.
2. Login by entering your jio number and click to generate otp. Now, fill otp which has been sent to your jio number and click to submit button.
3. Now, you will be entered into my jio homepage in website or in app also.
4. Click to my statement button from website homepage or app. In the app, you will get my statement option under the transaction section and in website direct in homepae.
5. As you will click that, another page will be open. choose date from which date to which you want to see detail.
6. You can view, Download in pdf format and can sent statement in email. Select anyone option and click to submit button. If you will select download and email option, you will not need to follow next step. but in view, you have to proceed next option.
7. if you click to view, you can see detail of SMS, Data and call. Select view option and click to submit button.
8. As you click, you can see detail of the owner of jio number. Click to usage charges and select data, voice, SMS. click anyone.
9. click to 'click here' button. Now, you will ge the solution of how to get call details of any number ? (best Recharge commission app 2020)
call history of airtel mobile number
Get Airtel call history by following the points:
1. Download my airtel thanks app from the playstore and install it in your Android phone.
2. Open my airtel app. Enter your airtel number and click to request otp.
3. Enter an otp which is sent to your airtel mobile number.
4. Now, you will be entered in my airtel homepage of app.
5. Click to more option and then click to my airtel button.
7. Now, click to manage account and then there will show your airtel number. So, Click to your number.
8. Click to transaction history.
9. Now, you will got the solution of how to check airtel call details in list?. date & time, incoming or outgoing call number, how much time, balance deducted charge etc. these are the information you can see. (Android tv remote control 2020)
Check Airtel call History by SMS
1. Open the message and click to write message.
2. Type their -[ EPREBILL NOV rohit.digital.@gmail.com ].
3. Send this message from your airtel number to 121.
4. Now, you will get one message in which there will be password of pdf statement.
5. Open your Same email and you will be sent mail from the airtel in which there will be pdf file of airtel call details.
6. open by clicking pdf. Now, it will ask password, enter the password which was sent to your airtel mobile number.
You have to type Eprebill and then write short letter name of that month which month of call history you want to see. In the last type your email id in which you want to get statement in pdf format. (Morpho vs mantra fingerprint device)
vodafone call history and detail
Before we can easily able to check voice data usage and detail from vodafone website but due to some problem, vodafone has stopped to show from site. So, i will tell that how to check vodafone call history of mobile number online from vodafone official app. In the history/statement, you can`t see number but time & date you can see of call.
1. Install my vodafone application in your smartphone.
2. Login by entering mobile number & otp.
3. Click to history option.
4. click to deduction option.
You can see here Last 5 days call detail. Note : you can see only time & date of incoming call.
I hope that by this article you will have got helpful information and you have understood about that how to get call details of any number. If you any query, you can comment or contact to me. if you like, please share it.