As, you know that there are many problems that occur while booking railway ticket offline. Some of the problems like waste of time and efforts, and waste of money. Which you can easily avoid by knowing How to book Railway Ticket Online. 
Do you know that booking ticket online can be much easier and faster than going and booking railway ticket from ticket counter? And there are lot's of more benefits. If  you don't know then let me tell you some major benefits. So that you may know that benefits and you can enjoy them.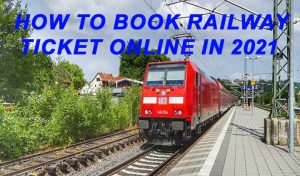 You can saves your time and efforts. By this you can save your time and effort which you used while travelling to railway office for reservation of ticket and you can book ticket form any place. It is good for nature by this you will not need to print ticket or take hard copy of ticket. Soft copy of ticket is also accepted. You can compare train fares, route, timing, schedule, etc. And you can see your best deal from different websites or apps.
So by looking this benefits and facilities let's proceed and know How to book Railway Ticket Online In 2021 with Mobile. So, today I will discuss with you all two main ways to book ticket online. The first method I have mentioned is by using website and second method that I have discussed is by using application to book ticket. All methods that I have discussed today are fully secured and registered by government of India.
Two methods to book Railway ticket Online through Mobile
Book Railway Ticket Online by using website.
Now, i will tell you that how to book ticket online by using website. If your phone contains low memory space so don't worry because by using website you can easily book railway ticket without any problem and without any any extra space. By using website you can book railway ticket without the problem of storage in phone. So follow the following steps to book a ticket.
Open google and search irctc.co.in
open the first link that appears
then booking  page appears
enter the station name from where you want to take train and whee you want to go under the From-To option, date of journey and preferred class for travel.
(like you want to take train from Delhi to Manali then in "From" option write Delhi and in "To" option write Manali)
If any 'Divyaang' passenger is travelling than he can select 'Divyaang' option.
Then click on find trains
To see the route and time you can click on train name.
After selecting the train, click on the type of class. To check the availability and fare, click on the 'Check availability and fare' tab.
Click on book now to book ticket.
Now in next page check all the information like station name, type etc.
Now, enter the names of passengers, age, gender, berth preference and food preference for each passenger.
After filling all correct information click on Continue Booking' for the payment process.
You can pay using credit cards, net banking, payment wallets and multiple payment services etc.
After successful payment, ticket confirmation page is displayed.
An SMS will be received on your registered mobile number which you have provided.
And Booking confirmation mail will be received on your registered email ID.
Now, you ticket is booked you can print your ticket or take screenshot both are valid.
Benefits of booking railway ticket by using website.
Now i will tell some Benefits of booking ticket online with the help of website. So first of all i am going to talk about mobile phone storage. As you know that today almost all things are done online. Because of that we have to download many app for for a single work. And because of that our phone storage easily gets full.
So, by using website you can easily book your e-ticket without any extra space in your phone. Which is really a good thing. And not only that the website I have used to book ticket is fully secured, safe, and easy to use. And not only that this website is registered website by Indian government for booking e-ticket and it fully valid.
So, here above are the steps by which you can easily book a ticket without any problem. And enjoy your journey which is very exciting. So, i hope that you have understood how to book ticket online by reading online steps all steps i have mentioned are very easy. And website I have used is a trusted website.
How to book Railway Ticket Online By Application.
If your smart phone contain high RAM and high Storage and you want to keep every thing arranged in your phone. So that you can get into it with some easy click. So you don't have to worry I am going to you How to book E-Ticket Online by the help of application. To know that you have to just follow the following steps that i have mentioned below.
Download the app of IRCTC application from the google play store or app store.
Now register their with your phone number and email id.
On the top left corner click on menu icon.
Now click on 'Plan My Journey'.
Click on  'New Booking'.
Now chose you destination in "From" – "To" section.
Select the journey date. You can also tick the 'Flexible with Date' if your date is not fixed.
Click on the 'Search Trains'.
Select a train from the list.
Select your Quota. Like General, Ladies, Senior Citizen, Tatkal, Premium Tatkal, Divyaang
And now click on class to view seat availability.
Now click on 'Book Now' to continue booking ticket.
On the 'Add Passenger' page, enter the name, age, gender, berth preference, select your nationality, and click on 'Done' after checking all your details.
You will be able to add or delete passengers for your journey through the options provided depends on your need.
Enter your mobile number on which the booking SMS will be sent.
Click on 'Book Ticket' to continue booking ticket with added passengers.
All details will be displayed on the screen like train and passenger details.
Now, click on 'Proceed to Payment' to make the payment. Users can pay using e-wallets, BHIM/UPI, net banking, credit/debit cards etc.
Now your ticket is booked. You can save the ticket on your phone by clicking on 'Save Ticket'.
Benefits of booking ticket by using application.
And, come now discuss some benefits of booking tickets by using application. If you use application then your data will be arranged you don't have to about it. You can easily access it without any problem. And for that you must have a good smart phone. Because it will take some space to keep it data. But that is not a big deal. Because it will provide your all data of travelling at one place.
Here above I have mentioned all the step through which you can easily book you railway E-Ticket online by following some easy steps. And the application that I have used is fully secured, safe, and trusted in fact it is also registered by Indian government.
 Conclusion on how to book railway ticket online
So, I hope that by reading this you got the knowledge of How to book Railway Ticket Online In 2021 with Mobile. And Here i have mentioned two main methods to book E-Tickets. So, if you enjoyed reading it share it to your friends and family who want this information. If you have enjoyed it do comment down and don't forget to check our website. Because, there we share you all information related technology.