If your jio phone is not switching on properly or it switches off while running, then you can easily fix it. So, in this case, you can fix it by installing software in your jio phone.
Here you don`t confuse about flashing & installation of software, it is same meaning & process. by the way, i have already published post that how to install software in android mobile. But jio keypad phone is different from any other smartphone.
There are many benefits you will get if you flash your jio phone by yourself at home. Your money & time will be save and skill will be develope. If you have a shop of mobile repairing then also you can provide this services to your customer.
So if you want to know the models of your jio phone, then just remove the battery of jio phone and see. You can also see it from the setting. So, let`s know its process.
(If you want to know that how to reset mi phone then you can check it)
How to install software in jio phone :
There are some of the software & files which you will need to download in your pc to flash Jio Lyf phone. They are Stock rom firmware file, Flash tools and USB driver. Through the help of this software & files we are going to reinstall operating system of jio phone.
1. Stock ROM firmware (Flash file) :
Stock ROM is the place where all file of operating system is stored in any mobile. Whenever you buy a new mobile, stock ROM is installed. Stock ROM is original rom which provided by the brand (company) of your mobile. So, this original stock ROM of your mobile is available on internet and you can download it
If anything goes wrong in your mobile related to operating system then reinstalling of stock ROM is done. I have already mentioned above that ROM consist operating software.So, Old Stock ROM is change and same new Stock ROM by downloading from internet will be install.
So, when the operating software is changed of your mobile, then all the bug & issue problem solved.
2.SPD (spreatdrum) Flash Tools :
SPD Flash tools helps to delete previous stock ROM which is installed and your mobile and to upload new Stock ROM in your mobile. Through this tools only Flashing of Jio phone will be done. There are many software for flash tools.
3.SPD USB Driver :
SPD USB Driver helps to connect your jio phone through USB Cable to your computer or laptop. Without USB Driver, your computer can`t identify your jio phone. You can`t flash jio phone until and unless your computer connect successfully through USB Cable.
Download Flash File For Jio Phone of All Models :
The three tools and files which are given above, you will get in Flash file of jio phone according to it`s model. It means to say that one file you have to download that is flash file according to model of jio phone. In this file only you will get three tools & files, they are stock rom firmware file, SPD (soreadtrum) Tools and SPD USB Driver.
So, next question comes that How to Download Flash File For Jio Phone of All Models ? So, you can download it easily from the internet. You have to download Flash File according to models of JIO mobile. So, let`s know the process to download flash file of your jio phone.
1.Open the google and search 'Download Jio Flash File for (your model)'. For example : If you have jio phone of F211S then search 'Download Jio Flash File for F211S'.
2.When you will search then many site will be open. Enter into any site and download Jio Flash File to install software in jio dead phone.
OR
1. List of all models to Download Jio phone Flash Files. By clicking this link, you can able to download easily Flash file according to models of your jio phone.
Now,Flash file has downloaded on your computer system. There will be (custom ROM) Firmware file, USB Driver and Flash Tools. These are the tools and files which is necessary for flashing of jio phone. These files & tools, you will get under flash file. So, let`s know next process.
How to flash jio phone : Step by step Jio phone flash of all models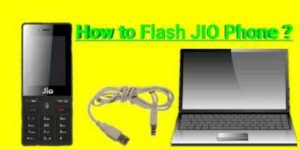 1.The flash file which you download will be in RAR. So, extract it.
2. `When the file would be extracted, then one file will come which will be named as models of jio phone. For example, if you download flash file for jio phone f211s then in file there will be writtens as F211S.
Install SPD USB Driver
3. Firstly, you have to Install SPD USB Driver so that you can connect jio phone to your pc system. Follow the points to install usb driver to connect your jio mobile.
Click to flash file which you have extracted

Again click to SPRD USB driver file.

go to driver file

Click to Sprdvcom file (This is the main file of usb driver)

Now, installation process will start.

Click to install button when it completed processing of installation.

Now, your SPD USB Driver would be installed on your computer.
Install SPD Flash Tool
4.Now, You have to open SPD Flash tools. So, Follow the process :
Open jio phone`s model name of flash file which you have extracted.

Click to upgrade download file.

Again click to Bin file.

Click to upgrade download software.

Your flash tools will open to install software in jio phone.
Load Custom ROM (Flash file)
5. Now, you have to Load Custom ROM Firmware (Flash File) in your flash tools. So, let`s follow the process.
Click to setting logo.

Select flash file from where you have kept it.

Click LYF (model of jio phone) file.

Again click to LYF (model) which will be in text format. (In this file, all the data of operating system store)

Now, downloading of flash file will be start on SPD Flash tools.

When it will be finish, then you can see file name of flash file in flash tools.
Process of connection jio phone to Computer system
6. Connect your Jio Phone to computer or laptop system through USB Data cables. So, follow the process that how to connect it properly.
Firstly, Remove the batter of your jio phone and again set your battery in mobile. (don`t switch on your jio phone)

Connect one end of usb cable to your pc system.
Keep pressing boot key and plug in one end of data cable to your mobile. ( Boot key is different of all jio phone according to it`s model. Boot key is given of all the models)
Process of flashing Jio phone
7. Click to start button which will be as arrow icon and when the downloading process start on your flash software then release boot key.
8. After few seconds, your flashing of jio phone will be completed. You can Switch on your jio mobile. It will work properly.
Conclusion :
I hope that you would have understood that how to flash jio phone ? or how to install software in jio phone ?. I expect that if your mobile is damaged due to software and you have follow my process well then your jio mobile proble would be solved.
If any problem you get or want to know about any queries, you can comment. The reply of your comment will be given as soon as possible. Also tell that how this article makes you helpful and tell me that which type of post you want.
I have tried to make you understand in simple way, so that you can understand in easy way. Stay coonected with this site to know latest technology information.