Do you want to know that how to get google adsense approval for blog? Have you also created a blg on WordPress or blogger? If yes then you are also wanting to approve your blog through Google Adsense.
So, that you can earn money from your blog by putting ads from Google AdSense. As you are knowing that there are many advertising networks on the market.
but google Adsense ad network is very popular one of them because it pays high CPC as compared to the other ad network.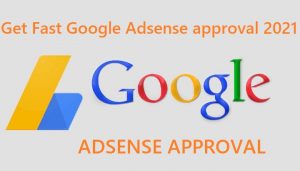 Therefore, almost all of the bloggers want to get AdSense approval from the Google AdSense ad network only. But most the Newbie blogger doesn`t get easy approval on their blog through WordPress due to some reason.
So, if you are also a blogger and getting problems with Adsense approval then you are at the right place. Because I am going to tell you that how to get google AdSense approval for your blog by avoiding mistakes.
So, you will get the procedure of fast google AdSense approval tricks in 2021 for your WordPress blog or blogger blog. Therefore, you don`t have to go anywhere about this approval solution.
What are the things you should apply on your blog for fast adsense approval?
As you might be knowing that applying for Adsense approval for blog or website is easy but the most difcult is to get approved your blog from google adsense.
So, I would like to clarify that there are many mistakes newbies do on their blog which creates problems in getting Adsense approval. So, there are some points which you need to follow to get AdSense approval on your blog.
Below are some of the points which matters in the process of google adsense approval for your blog:-
Blog domain age
High Quality contents
Quantity of blog post and word length of post
About us, Contact us, Pribacy policy important pages
Top level domain
User friendly website design
Don`t post illegal content
Use SSl Certificate
These are the main points that matter when comes to google Adsense approval for a particular website or blog. So, let`s know in detail of each point below.
(Know that how to download copyright free image from google)
Blog Domain age for fast approval
The domain age should be minimum of 6 months according to the eligibility criteria for getting AdSense approval in some Asian countries. But in reality, you don`t need to make your domain age for 6 months to get approval AdSense.
You can easily get google AdSense approval before 6 months also. According to my suggestion, your site domain age should be at least 1 month old then you should apply for Adsense.
I am saying this because most of the blogger have gootten and still getting adsense approval before 6 months old domain age. Even i have been gotten AdSense approval on this blog in the domain age of 3 months.
Now, i hope that blog domain page points would have been cleated to you that there should be at least a 1-month-old domain and it is not necessary for 6 months old domain age.
(Know that how to share google map location on whatsapp)
Write high-quality content
Do you know that what is high-quality content in a blog? If you don`t then let me tell you. Quality content means the content which you write that should be unique.
Not only the article should be unique but whatever material whether images or graphics you use on your blog that should be also unique. By the way, that is another matter if you give the credit especially to the image.
You may have listened to that content is the king. So, your article should be unique as well as that should be in a depth which is known as hgh quality content.
Enough quantity of blog post and word of a post
The quantity of the blog posts and word of each post also matter too much when the blog goes for google AdSense approval. By the way, there is not written anywhere in the google criteria that this much quantity of blog post should be there or this much word of article
But if there is low quantity of the blog posts and low words of the content of the article on your blog then most people get low content value as a rejection in google Adsense.
Therefore, there should be at least 30 articles with a minimum word count of 1000 on your blog to get google AdSense approval according to my perspective.
(Know that how to add location in google map for public?)
About us, Contact us, Privacy policy important pages
There are some of the pages which you should be available on your blog. They are About us, contact us, disclaimer, privacy policy etc. By the way, you can create many pages but these 4 pages are necessary especially for google AdSense approval,
With the help of the about us page, google comes to know that you are a legit person and sharing a good quality of knowledge. As well as this, google identify that you are spammy.
As well as these there should be also a contact us page. With the help of the contact page, google known that if the visitor gets a problem then they can contact to the admin of site which gives the right direction to google.
And the disclaimer and privacy policy pages tell google that you are clearly telling your audience the rules and regulations of the data of your site.
By the way, many bloggers get AdSense approval without creating these pages also but most of the chances is for rejection currently. So, you have to create about us, contact us, privacy policy, and disclaimer pages before applying for google Adsense on your blog.
Top-level domain
There should be a top-level domain such as the extension of a domain should be in a .com, .net, org, .in, etc. as well as these the domain name should not be too long.
Many of the new bloggers create a blog through a blogger website and they don`t purchase a custom domain. They directly create and start working on the Blogspot subdomain blog.
Currently, there is a 95% chance of not getting adsense approval in a subdomain. Therefore, your domain should be a top-level domain. As you can see that the domain of this blog is a top-level domain. So, you should have also a top-level domain in this way to your blog.
User-friendly website design
The design of your blog or website should be in a simple or legit way. So, that any visitor can easily read the content of any page of your blog. There should be a proper navigation menu on your website if you write an article a category wise.
So, that the visitor can eaisly navigate to your website.  As well as these, your blog should be responsive which meand that the blog should appear properly on mobile as well as desktop.
And the website speed of your blog should not be too slow. So, i hope that the points of user freindly website would have been cleared to you.
Don`t post illegal content
Every content on your blog should be legal content. There should not be an article related to hacking, gambling, drug, adult etc. on your blog post.
Otherwise anyhow you will not be able to get approval for your blog. So, if you have been written such type of content then also you can get google AdSense by writing legal content and removing illegal content.
Use SSl Certificate
As you know that SSL Certifiacte is used for the security of a website and it tells users that you are secured in this site. By the way, it is not mandatory to have a ssl certifiacte on your website.
But if it is on your blog or website then there will be more chances for getting google adsense approval. If your current hosting is not provifing you free SSL Certificate then you can use SSL Certifcate by connecting your website to the Cloudflare service.
Language support for google adsense approval
You blog should be in a language which google Adsense support such as hindi, english etc. There are many language which google adsebse support and you can know it by clicking it.
Conclusion on how to get google adsense approval for blog
I hope that you would have known well that how to get fast google adsense approval by following the above points. We have mentioned some of the important points which really matter when your site goes for google adsense approval.
If the above points match to your website then there is an almost a full chance of getting google AdSense approval on your blog. As well as these, your niche of a blog should be leggall.
If you don`t get approval once then also you can apply several times. Because most of the time, many bloggers don`t get approval for the first time.
If you have any query related to the google Adsense approval then you can comment below. We will try to solve the query as it suitable to our field.