Now, you can able to live stream your videos and live screen record on smartphone from youtube apps. You can also live stream your PUBG and free fire game from youtube apps. By the way, there are many ways to go live stream free from the help of third party software.
But from third party apps, there is the danger with your channel. So, my recommendation is not to use this methods. So, we will know that how to live stream on youtube apps from your smatphone.
Many of the big youtuber use live streaming on their channel. Through the live streaming features, your subscriber get helps and audience build. You subscriber can ask questions and you can help them live.
If they will get help by you then obivously they will connect with your channel always. So, they will be watch your all videos because they got helps by you.
It means to say that your audience will built, when you do live streaming in youtube. There are some of the eligibility requirement then only you can enable live streaming youtube on your mobile. Note that there is not any eligibility requirement to go live on youtube from computer or PC.
Minimum requirements for live streaming on youtube from Mobile :
Your channel should have minimum 1,000 subscriber to go live on youtube from mobile (smartphone). You can also see this requirement from official google support site. This website will go to youtube help center.
If you want to go live stream on youtube with computer then in 0 Subscriber also you can go with live. But without 1000 subscriber you can`t enable live stream on youtube in your android or other smartphone.Also remember that your youtube channel should not violate any polices of youtube.
There is possible to live stream from youtube through help of software but not with youtube apps of your mobile. I have already told that there is the risk and danger to use third party app.
If you have less than 1000 or 0 subscriber then also don`t worry my dear friends. I will tell you that how to mobile stream on youtube without 1000 subscribers.
Also read : How to add join button on your channel
How to enable live stream on youtube apps from mobile :
You have to verify your youtube account to enable live stream features. There is not any method to verify live stream on youtube apps but you can verify in your mobile by other methods. You can verify it by your chrome browser of your smartphone.
You can use features of live stream on your mobile through youtube apps but to verify for enable, you can do it in chrome browser or from computer. So, let`s know that how to verify to enable live stream features on youtube apps from mobile.
#1. Open your chrome browser.
#2. Tap to three dot and click to desktop site. Enter youtube.com/verify and loging by gmail of your youtube.
#3. Select the way to get verification code such as by call and text.  Now, option will open to enter mobile number. so, enter your phone number and click to submit.
#4. Now, enter your verification code and click to submit button.
#5. Now, your youtube account would be verfied.
This are the following steps to verify your youtube account. Now, you will be eligible to live stream after 24 hours. (Play your videos from youtube in background without any apps)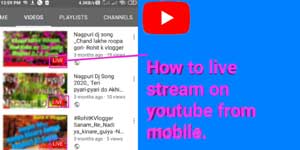 #1. open your youtube apps from mobile.
#2. click to 'video icon' option in the left side of search icon from youtube apps in your smartphone.
#3.  There will be two option that is Record and go live. So, you have to click 'Go live' option.
#4. Click to 'Allow access' and then click to allow . When you will first it ask permission to use your voice from your phone at a time of live streaming.
#5. There will be two option to live go live on youtube. They are to live stream with camera and live screen stream. So, you can choose these from the option. The option will be available on the top right side corner. For the screen live, mobile logo will show. and for the camera front & Rear, camera logo will show. So, select anyone according to need. By the way, first time it will be auto selected with cameras.
#6. You have to create a title. So, write a title what you want to display to your audience while live stream videos. Also set some of the setting according to your need. Scroll down and click to next option.
#7. Now, upload your thumbnail of live videos.
#8. When you upload, then option will come for 'Go Live'. So, click it.
Now, Your videos will be live as publicly. Your audience can do live comment to you and you can reply at same time as live. I have told steps to go live stream with camera but by selecting and following procedure, you can also go live with your screen live recording. Through this method you can go live stream PUBG and free fire game with live screen recording on youtube from mobile.
Read this also : Jio phone video editor online
Conclusion :
I hope that you have understood that how to live stream on youtube from mobile without any apps. It is the amazing feature in your mobile to help subscriber live chat with their question and you can reply as live. So, the audience or subscriber will stay connected always with your channel.
Nowadays Games are famous such as Pubg and free fire. Many of the public want to watch live videos of such games. So, you can live stream your screen by playing games or also you can live other things through screen.If you have any query related to this article, then you can comment. Also comment that how this article makes you helpful.