Do you want to know that how to set up shopify store? Want to sell your or other products in online with the help of shopify store? Just like you have an offline shop or store, in the same way you can open an online store absolutely free with the help of shopify platform.
As you are knowing that after the lockdown, the online mode of selling has been increased compare to offline sell. So, people mostly use amzon and flipkart store to buy any products which delivered the product to the buyer after a few days or one weeks.

If you have a offline shop in a city or anywhere, then you can also make your online store and can do marketing in that particular local area. So, that you can delivered the physical product immediately or in a day to the customer.
You can guess that the customer of that particular area will order your product only because they will get the product in fast time. As your store name become famous in a mass area, then your product will be purchased from the far also.
Mostly offline shopkeepers do not want to make their online store due to technical knowledge or money. But today i will tell you that how you can setup your own online store with shopify platform by creating your own website in free. So, let`s know that how to set up shopify store step by step?
How to create online store with shopify ? Step wise
#1. How to Create and set up shopify store (account) ?
Open your any browser in mobile or desktop and go to "shopify.com" website.
Click to start free trail button in the homepage as you can see in image.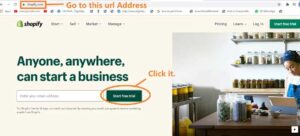 Type their email address and own strength password in given box.
Type your unique store name in the given box. For example, if anyone have created shopify account by entering Store name "Digital-help", then you can`t create entered same store name. If your store name is not available then you can put address with store name.
Click to "Create your store" button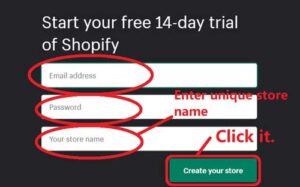 Shopify will ask you little information about you but you can click to skip.
Now, there is mandatory to add some information about you such as Your name, Address, Phone number etc.
After entering some of the detail, click to Enter my store option.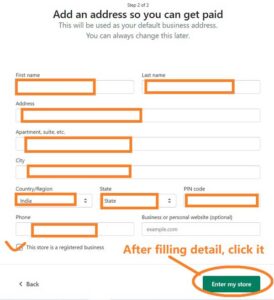 Now, you will be entered to your own store admin in the shopify account. It means that your shopify account has been created successfully.
Your own website with store name as created.  For example, if you have entered your Store name "Digital store", then your own website will be created as "digitalstore.shopify.com/admin". It means after your store name, there will be shopify.com.
Now, you can customize your website, Add product or items which you want to sell, get order from customer, ship the product to the customer and received payment. All the things you have to manage in your website admin panel. So, to visit your website admin panel you will need to enter " Yourstorename.shopify.com" url in your browser.
#2. How to customize shopify online store (your website) ? Setup theme & design
Visit to admin panel of your store. To got to admin panel of website, type "Yourstorename.shopify.com/admin" URL address in the browser. After entering this address, you will be directly entered to your website admin homepage.
Click to customize them option as shown in image.
Again click to customize theme.
How to Setup theme for your shopify online store website ?
Note : As you create shopify an online store then automatically website is created with a particular theme that is debut theme. But if you you wish then you can install many themes according to your wish.
Scroll down and click to Explore free theme button.
Select the theme which you want to set in your website by looking preview of them. Choose a theme which can makes your online store as a professional website, so that your conversion can increase.
After selecting theme, click to add to theme library button.
Again scroll down and click to action and then click to publish option to set themes in your website server.
Click to publish them button. Hence, now your theme has been setup in your website. Now, you have to customize it. so, let`s know.
How to design and customize theme of shopify online store?
Go to yourstorename.myshopify.com/admin/themes url.
Now, the theme which you have chosen earlier according to your wish that will be installed. So, you can see the theme name which you been choose.
So, Click to customize button.
Now, you can customize and design your website or online store with the help of given tools as you can see in images.
With the help of text, there is impossible to make you understand to design and customize shopify online store. That`s why i have mentioned the video above which you can see and customize it.
#3. How to add products on shopify store ? – Setup shopify store
1. Visit to admin panel of your shopify online store means in your website.
2. Click to product option.
3. Click to Add product button.
4. Now, you will get form to fill the detail about your product or items. So, let`s know that how to add product images and detail step by step. Follow the following points :-
Title of product :- In the box Below of title, write the product name. You have to write a such type of name which engage customer. You should type a product name in a medium length, it means the name should not be too short or too long.
Description of items :- Here you have to describe about your products in detail such as specification, features and acessories  etc. Don`t describe much lengthy but you can describe point wise using bullet button. For example, if you want to sell smartphone then you have to describe it`s specification in description box such as ram, rom, screen size etc.
Media :- Here you can add images and videos. Either images or videos is mandator to add, so that your customer can attract for buying your product items with images or videos.
Pricing of products :- Here you have to enter the actual cost with shipping charges and you can give discount to customer also.
Inventory :- Enter SKU (Stock keeping unit), if you don`t know that how to create SKU for any product then you can search and enter in internet or you can see videos.
Quantity of product:- Here you have to enter the quantity of product that how many products are available in your store.
Shipping of items :- You have to enter the weight of that product and also enter the country name.
HS (Harmonized system) code :- According to your product, you have to enter this code also. If you`re not knowing that what is HS code for product and How to generate it? then you can search it on internet or can watch videos.
Variants :- If the products has multiple colors then by ticking "This product has multiple options, like different sizes or colors" this option you can add colors.
5. Now, your product will be in draft status, it means your product will not visible in your website. So, to make it visible click to draft drop down list and then select active status.
#4. Shopify Payments Setup & Shopify Shipping Settings
To get order and receive payment from your shopify online store, you will need to purchase a plan. So, let`s know in detail about it with the help of text or you can watch the above videos also.
How to purchase a plan to get order and receive payment ?
Open your shopify store panel.
In the homepage, click to select plan button.
Since, there will be three plan available as you can see in the images. In first, there is a basic plan in which you have to pay $29 and in second plane – $ 79 and in third plan, $ 299 per months. If you`re a beginner then you can choose the first plan.
Click to choose this plan from any plan according to your wish.
You can do payment from paypal account or by using your debit card. In this way, you can purchased a plan of shopify store.
#5. Shopify Checklist before Launch
If you follow all the above steps then you would set up shopify account sucessfully. Three videos i mentioned in this article because with the help of text, there is impossible to explain. This is the reason for which i have mentioned videos to create your successfully shopify account.
FAQ on How to setup shopify store
How much does it cost to set up a Shopify store?
At least you will need to pay $29 per months of basic plan, then only you will be eligible to get order for your product and receive payment. Once you created your shopify account then once you pay $29 then after 14days, your money will be start charging fee of using shopify store. Shopify offers 14 days of trial in which your money will not be charged but to use all services, you will need to pay money earlier.
Is creating a Shopify store free?
You can create a shopify store in a free but to use all services such as to get payment and order, you will need to buy a plan. In this article i have explained step by step to set up shopify store.
Do I need a business license to sell on Shopify?
No, you don`t require any business license to sell your product on shopify store. Just by creating account and buying a plan, you can sell your product to customer through the help of shopify store.
Do I need a business bank account for Shopify?
No, you don`t need any business account for shopify store to receive payment from customer of product. You can use any personal or saving account on shopify store to receive payment.
How do you make money with Shopify?
When your product will be sell to customer then only you will be able to make money with shopify online store.
Conclusion on creating shopify online store
I hope that you would have understood that how to set up shopify store ? and how to sell your product and receive money using shopify online store.
I have mentioned the each steps in detail with screenshoot and also i have inserted videos in this article to make you better understand. You ca watch the above videos to know in practically.
If you have any query related to this article then you can contact us, the query or your problem will be solved by us as soon as possible.