Do you want to access any websites that are blocked in your area? Do you want to hide information to your ISP (Internet service provider)? Some websites are blocked in your region or country. And sometimes you need to access certain websites that have been blocked. If you want to access any website that has been blocked in your area or want to secure information from your ISP, then in this situation you need to use a VPN (Virtual Private Network) Service. So, if you want to know how to use a VPN on Windows 10? then you are at right place.
How to use a VPN without any Software and with the Best VPN Software on PC?
So, We will know to use VPN safely on Windows 10 PC in an easy way and without facing any kind of problem. As you probably know that a lot of software for VPNs are available on the Internet but Many of them are unreliable and are genuine software. Either they damaged your computer through a malicious virus or they are using your personal information in the wrong way.
For example, if you use your bank details or process payment on any website through the help of local / fake VPN Software then they can still easily get this kind of information. So, if you want to use a secure VPN over reliable software, keep reading and going through the steps.
How to use VPN in Windows 10 without any software ?
Click to start button from your window 10 System.

Click into the Settings option.

Now, click on Network & Internet option.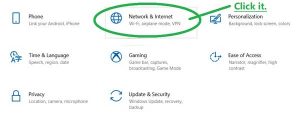 Click into the VPN option on the left side as shown in the image.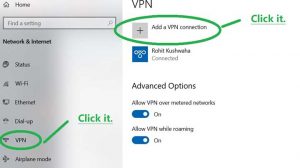 Now, you need to fill out a form to set up a VPN on your windows 10 system.




First, Select the "Windows built-in" option in the VPN service provider Box.

Secondly, type any connection name means you can type your name or anything.

In the third box, you must enter the server address. So, there are lots of websites from there that you can get the server address from. vpnbook.com/freevpn - Click this link to get the server address.

After Clicking on that link, select one of the server addresses as shown in the image.

In the VPN Type section, select PPTP (Point to point tunneling protocol)

In the login type section, select "Username and password".

Now, type the username and password of that server. So, the username & password you will get from that link as you can see in the below images.  (After clicking that link, you will able to see 8 different Server address, so the password for all is same as you can see in images" So, the password is - vpnbook And Password is - 23DHa92)

In last, Just click to Save button.
As you click that Save option then you come back again automatically 1 step back means VPN Setting as you can see in images.
Now, you will be able to see the name of the server which you have typed there. For exampled; i have typed "Rohit Kushwaha" in the server name. So, i can see a Name "Rohit Kushwaha" in the VPN list as you can see in images.
Click to Connect option and wait for few second.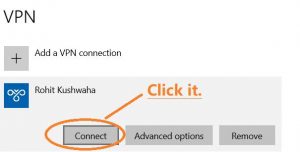 After a few connection, VPN will be connected successful as you can see in images.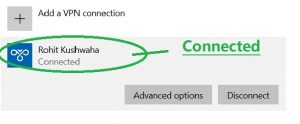 So, in this way you can Connect VPN in your Window 10 System without any external Software.
How to use VPN in Windows 10 through Opera Browser ?
As you may be knowing and used opera mini browser on your smartphone or PC. It is much popular in browser because it is consider as a fastest browser.
Do you know that you can use VPN through Opera browser and can access any website or server ? If you don`t know then i would like to tell you that Opera browser has launched a VPN service in their browser through which you can use it. So, we will know in this method that How to use VPN in Windows 10 through Opera Browser software.
How to use VPN through opera browser in window 10 ?
Download the opera browser from your window 10 PC. So, perform the following steps to download a Opera browser in your computer :-

Open any browser and type "Opera Browser".

Click to first link "opera.com".

Click download button to download opera browser in your laptop or computer. As you will click that button, downloading will start automatically in your computer.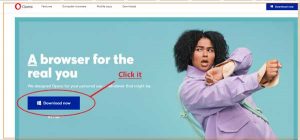 Install the opera browser software which you have downloaded in your system. Perform the following steps to install it :-

Open the download folder or where you have downloaded that opera browser.

Right click of your mouse of system on the file which you have downloaded.

Click to "Run as administrator" option.

Click to Install button. As you click install button, then installing process will start.

After installation, icon of opera browser will be displayed n your computer.
Open opera browser software from the computer.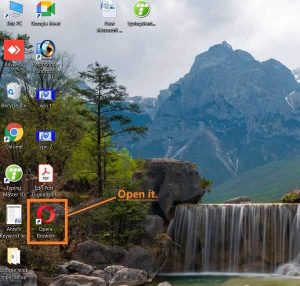 Click to opera browser icon on the top left corner in browser.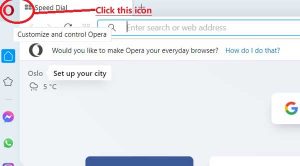 Click to setting option. (Press ALT+P from keyboard.)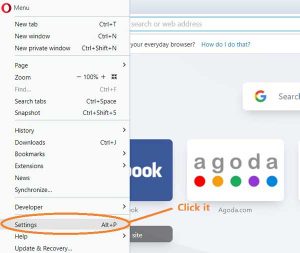 Now you have to click the "Advanced" option.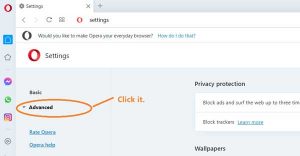 Click to "features" option.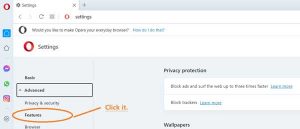 In the enable VPN Section, toggled to enable VPN.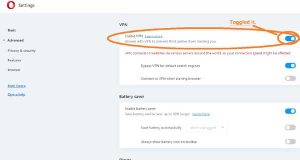 So, in this way you can enable VPN and an able to access any blocked website and can hide information from your ISP (internet service provider). You will need to follow the steps which are mentioned above if you want to use a VPN. If you don`t want to follow the above methods, then let`s know another method.
What is VPN ?
Before knowing that What is VPN? First you should know the following terms :-
ISP :- ISP is known as Internet service provider which provides a Internet service to your computer or device through various ways such as through wireless network, LAN Cable, WIFI etc.
IP address :- IP address is known as internet protocol address which is a address that tells a information or data where to go on the internet like a home address. Both Device and website or server have a IP address.
VPN is a Virtual private network which helps to access any blocked website of a region and to hide information from ISP. Let`s understand in detail the concept of VPN.
How you access any website ?
When you Request to visit any particular website to take information, then your request goes to the ISP in the form of IP address. Then ISP comes to know that From where you are and From where you want to access data in the form of IP address.
Then ISP stored your IP address but the website which you want to access, that ISP request to the the particular website of a server by the help of IP address of that website of server.
After requesting by ISP to the website of a server, then ISP gets an information from that website of server then It delivers to your computer or mobile with the help of IP address which ISP has been stored while requesting.
After reading the above paragraph, you would have understood that the website we are able to access with the help of ISP. So, In VPN also ISP plays an important role.
How VPN works ?
Sometimes the websites are blocked due to various reason in some areas or your country by the government. So, the ISP were been told that if anyone send request to that Particular website, then don`t delivered and blocked it from delivering data. Here I`m trying to make understand in a simple languages.
You can understand that VPN is a one kind of Server only. When you use VPN Service and when you request to access that blocked website then your ISP understand that you want to go to VPS server then the VPS transfer that request to a website from where you want to get data. Then the VPS Server delivers data of website directly to you.
In this way by using VPN you can access any blocked website and can hide your activities on the internet from your ISP.
FAQ on Virtual private network
What is the VPN and how it works?
VPN is a virtual private network which makes a connection secure from your ISP. When you use this ISP don`t have a information that where your are visiting and in which website. ISP only knows that you have visited in VPS server.
What is a VPN used for?
Mostly it is used to access any blocked website of a area and to hide or secure information from your local ISP. For this purpose only, mostly people used VPN service.
Can I download VPN for free?
Yes, you can download a VPN Software for free to use it. Many software are available on the internet from where you can download and use it. In this articles, three methods are mentioned to How to use VPN in Windows 10 in laptop or computer.
How do I hide my IP address?
You can hide your Real IP address with the help of VPN Server.
Are free VPN good?
All free VPN are not good, many of them are dangerous means they can also still your personal information. But some of the free VPN software are available which are reliable and original. But if you want to keep secure your data then you can use paid VPN Software.
Conclusion on using VPN on window 10
I hope that you would have got an idea about that how you can use virtual private network to access any blocked website on your window 10 System. I have told three methods, so you can use any method to setup VPN in your computer.
All the steps i have mentioned with the help of screenshot, so that you may get helpful to understand in a easy way.. I have tried my best level to explain about VPN and how to use it? I expect that after reading this article, you may feel good.
If you have any query related to this article then you can contact us, I will try to resolve that problem as soon as possible.