If your passbook has been lost somewhere, you can download your mini statement of all bank. Mostly, all bank provide facility to check passbook detail but through their bank`s internet banking. Many people search that how to download mini statement of all bank without internet banking.
But for the internet banking, you should have your ATM ( automatic teller machine) card and mobile number registered to your bank account number.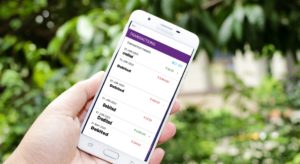 There are many such people who do not have their internet banking, so in this case I will tell you how you can see your Mini statement of all bank
The account holder can check mini statement of account in many ways. They are by internet banking, apps, and by AEPS system. So, if you don`t have internet banking of your bank, don`t worry.
You can easily see your last 9 transaction through your Aadhar card and fingerprint by AEPS system. This features is not started before but in 2020 this mini statement service has started.
How to download all bank passbook mini statement through Aadhar card?
if you want to know your Bank Account statement through Aadhar card, then your aadhar card should be link with your bank account.
Mostly, now-a-days when you go to bank to open for new account. There is the the mandatory of Aadhar card document. Without this document, you can`t able to open your account.
The method that i am going to tell you that is through AEPS system. There are many aeps app which provide the services for adhar withdrawal, Balance inquiry,  Mini statement etc.
In all the villages and cities there is the shop of customer service point. It also known as in hindi grahak sewa kendra or digital sewa.
You can visit there in csp shop and tell them to download mini statement through aadhar card and fingerprint. If you want to do all this process by yourself then you should have any aeps apps and it`s id & password.
Basically, there are many AEPS apps such as pay nearby, Dogma, spice money, novo pay etc. I am using pay nearby, so i have the full experience about pay nearby services.
Top 20 best AEPS Apps for adhar withdrawal
Pay nearby has launched mini statement services in 2020. but may be some aeps apps have not the facility of to view bank passbook mini statement of account. To know the full process to get id & password and how to use it click to below link.
Full process to use pay nearby apps
How to see all bank passbook mini statement of account through adhar card in paynearby ?
Let`s know about that the mini statement services of pay nearby apps. It is very easy process but for the beginner, there is difficult who don`t have tech skills. so, follow some points :
open the pay nearby apps.
In the service section, there are many services. so, click to mini statement which is after the balance inquiry. It is launched in 2020.
select your biometric device.
Enter the Aadhar number of the account holder, phone number, name and select bank. click next
click scan finger. keep your finger in biometric machine.
when it verified that your aadhar card has matched to your fingerprint then you can see Mini statement of all bank of list.
All the last 9 transaction of your account there will show. All detail transaction will show there like  your passbook.  You can share this transaction to whatsApp  (option will available to share)   and you can print it easily.
Some of the questions mainly people ask that is known as FAQ ( frequently asked questions ). so, i am going to cover some FAQ related to this topic.
If you want to know only sbi mini statement then you can check by yono app.
1. can you see online account statement of all bank without internet banking ?
Yes, you can easily see your bank account statement without internet banking, ATM card, register mobile number. Through the Aadhar card and finger print, it is possible.
2. what is bank account statement ?
Bank account statement is the list of the transaction of your bank account. Whenever you have done deposited and withdraw, that list you can see in statement.
if you want to read by about mini statement you can visit to wikipedia site.
Thank you ! For reading this article. I expect that you have got your answer perfectly that what you want to know. Now, you understood about  that how to see  Mini statement of all bank without internet banking.
If you like it, then please share this article to your friends through social media. For any query related to this blog, you can comment.