Hi friends, Do you want to update your redmi 6a Android mobile? if you want to update your xiaomi  mi redmi, then this article is the most helpful for you. So, we will know about Xiaomi mi redmi 6a new update . In the month of march, Redmi 6a MIUIΙΙ new update has came.
So, in this post we will try to know about that how to update xiaomi mi redmi 6a MIUI 11.0.8.0 version and what are changes after updated. by the way, you know that smartphone user should update his/her mobile at regular time and you also know that why you should update your android mobile.So, i well tell all information related to mi redmi update.
How to update Mi redmi 6a MIUI 11.0.8.0 version?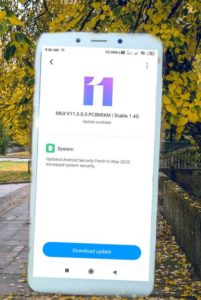 Follow the points for mi redmi 6a new update 2020 which are given below:
1.Open the setting of your redmi mobile.
2.click to about phone and then click to system update.(wait for some second because it will check that new update is available or not)
3.Now, a new page will be display there in which all the information will be there about redmi. to update, click to download update.
4. when you will click that downloading will start which will be of 246 mb.
5.When the downloading 100%  finished, there will show the button of reboot now. click it.
6. After that it will start updating. status of updating you can see through by percentage.you can also see one warning in which there will be written as updating MIUI, don`t turn off your mobile.
7. So, don`t turn off. when it update will be completed, it will reboot and open.
Now, your redmi 6a latest version MIUI 11.0.8.0 is updated successfully. Now, we will try to know that after updates,what are the things has changed and extra features.
What's new in Redmi 6a new update?
1.When you will scroll down notification bar of your mobile, you can see there one new features will display that is bedtime mode option. It will be located where wifi is there before update. In this you can set schedule that which type your bed time should come. you can also enable (DND) do not disturb. This option will be available in bed time mode.
2. if we will talk about next then it comes features in browser. When you will click first time browser, you can see there option to select color scheme. You can select one options, either of white color or black. After selecting, when you will click agree and continue. It will start.This new features has came.
Play youtube in background without any app
3.when you will go to about phone, you can see there your Android security patch level date will be changed. Due to this your security of mobile will be increased from harmful things.
4.if there is some bug or problem  before then it will be fixed.
5.your phone will run smoothly and fast.
You can also read redmi story.
What should you do after update completed of your redmi ?
When the system updated, it will ask to update all mi app. update all the app one by one. you know that how to update system app. if you don`t know, just go to setting and click in 2nd number – system apps updater. All the list of the system app will come which it needs to update.
When system app will update completely, then some new feature will be added under the system app. by updating, your app will run fast and smoothly.
Best cooling app for android 2020
Conclusion
I hope that you have got helps through this article about redmi 6a new update. If you getting some problem related to this post, you can comment. If you like this post, please share it.