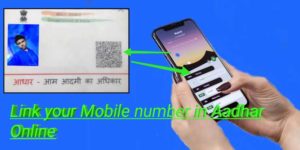 If your mobile number is not registered in your Aadhar card, then you can`t do a lot of online work through aadhar card. You cannot download Aadhar card online and can`t able to do any updates on your Aadhar card.So, It is very important that your mobile number should be registered or linked with your aadhar number. we will know that how to register mobile number in aadhar card online.
If you want to apply online for any registration or any things such as csc registration, pan card, driving license etc. Then here you will need your aadhar card and also it will verify your aadhar number through OTP . For the verification, your adhar card should be linked with mobile number.
There is the easy process to link mobile number to aadhar card online. If mobile number has lost which has been registered to your Aadhar , then also you can registered new mobile number.
In every online and offline service for the identification of person there is the most necessary of aadhar card in every places. Basically, verification ask on your adhar card in online mode not in offline.
[
withdraw your money through aadhar card
– know full process]
How to add mobile number to aadhar – register mobile number in aadhar card online
I want to tell you that there is not any method that without going to Aadhaar center, you can completely link new mobile number to Aadhar card. But some of the process you can do by online which is to book appointment for Aadhar linking with mobile.
When you will finish the process of book appointment, you will get receipt in which there will be time & date to visit in PAC (permanent adhaar center).
The benefit to book appointment are you don`t have to submit any document when you will go to aadhar center. Also time will be given in your receipt to visit there. So, let`s start to book appointment to register mobile number in aadhar card online.
[
Aeps app for adhaar payment in mobile 2020
]
Step by Steps – How to link aadhaar with mobile number
1. visit the official site of uidai.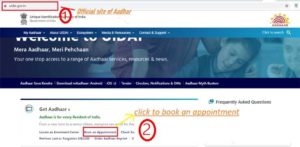 2. Click to book appointment under the Get Aadhar section as shown above in pictures.
3. There are two type of Aadhar sewa kendra. One is based at UIDAI and the other is at Registrar. Click proceed to Book an Appointment at Registrar run Aadhaar Seva Kendra as shown in images.

4. Enter your mobile number. Fill the captcha code as it is given in above in the captcha box. Now, click to Send otp.
5.Enter the OTP which is sent to your mobile number and click to submit otp & proceed button.
6. Click to update aadhar option.

7. Enter your name according to your aadhar card and  aadhar number. Click to check the box to register mobile number in aadhar card. Click to proceed button.
8. Now,message will come -(Do you want to proceed?) so, you have to click ok there.
9. Check the consent and click to submit button.
10. Now, your application will be submitted and you will get AID (appointment id) as it is shown in images. Now, i will tel you that how to book appointment to visit PAC (permananent aadhaar center).
Book online appointment for aadhaar card
11.Click to book appointment to choose aadhar center.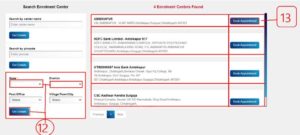 12. you can Search enrollment center by searching name of center, pin code, or by selecting state and district. Best way is to select state and district only. click detail.
13. As you will click detail, Aadhar center list will come.Select where you can visit and click to book appointment.
14. When you will click to appointment, you have to confirm your booking by clicking confirm button and you will be display to pay RS.50 at adhaar center. so, click to confirm button.
15. There will display the option to choose for date. Remember: Only green one will be available for you while red one shows that someone has booked.As you will select that your booking will be confirmed.
When you will confirm your booking then you can download or print your application. There is the no necessary to download or print that application. Visit Branch of Aadhaar center on that date which you have selected while booking appointment. Only you have to give or tell your AID (appointment id) there.
[
csc new registration 2020
]
How to change mobile number in aadhar card online
if you have not registered mobile number in aadhar card, then you can`t do any changes in online. For this, you have to follow the steps which i have mentioned in previous that is link to mobile number in aadhaar.
If your mobile number has registered in aadhar, then you can change your Mobile number in aadhar card  through otp (one time password). Through this process you will no need to visit aadhar center. This online process you can able to do only if your mobile number has registered to your aadhar.
[
Best mobile recharge commission app 2020
]
Steps to change/update mobile number in aadhar online
1. Visit to aadhar self service update portal (website) for any correction such as address, gender, mobile number,name etc.
2. Login by entering aadhar or virtual id number, captcha verification. Click to send otp and fill the otp which is sent to your register mobile number of aadhar card. Click Login button.
3. When you will log in, Data update request list will be come. Check the box of mobile number and click to submit button. (if you want to change or update name, DOB, email id, gender then you can check the box which service you want to update.
4. Enter your new mobile number which you want to change or update and click to submit update request button.
5.Now, check the  consent (agreement) and click to proceed.
6. As you will complete all step, your request will be completed. You will get URN (unique reference number) to track adhaar update status. You can download or print this file.
Within 24 or 48 hours you mobile number will be changed/updated.
[
Mantra vs Morpho device
]
Aadhar update status by urn
1. Visit the Aadhar update status. visit by clicking link.
2.Enter your 12 digita aadhar number.
3.Enter URN and verify captcha.
4.Click to check status button.
[
install operating software in your mobile
]
Conclusion :
Hence, you have understood that How to register mobile number in aadhar card online without otp.  I have tried to mention in easy way through step and images to make for better understanding. Hope you will visit again in this website.If you like this article, then share it to your friends.