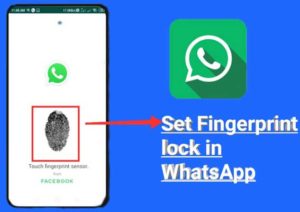 Nowadays whatsapp is a most common application which is being used by all smartphone user. There is hardly anyone who have not installed whatsapp on his smartphone. Whatsapp has launched fingerprint lock features in whatsapp. Today we will know that how to set fingerprint lock in whatsapp in your Android mobile.
Through this feature you can lock and unlock your whatsapp application through your fingerprint. This whatsapp fingerprint lock features help to secure your whatsapp messages. The benefit of this feature you can get only if fingerprint sensor is there in your android mobile or smartphone.
Without your fingerprint anyone can`t able to open your whatsapp application. Mostly many of them use fingerprint sensor smartphone. Basically, nowadays all android mobile are being launched with fingerprint sensor.
How to put fingerprint lock for whatsapp
If you want to enable fingerprint lock for whatsapp, then your whatsappn should be of beta version. This beta version help us to enable new updates or features. When beta version of whatsapp will be enabled then many features you can use.
So, let`s know that what are the latest features, you can get from beta version of whatsapp.Whatsapp fingerprint lock and dark mode features will be available and this you can apply. This two features are the latest update came from whatsapp.
The whatsapp application which are using currently it may be 2.20.195.15.  But the version of beta is 2.19. 221. So, let`s know how to enable beta version of whatsapp for whatsapp fingerprint lock. (get call detail history real 100%)
How to join beta version to enable whatsapp fingerprint lock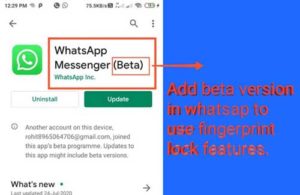 Steps to join beta version of whatsapp :
1. Your gmail account should be same in playstore as well as in chrome browser. If gmail has not logged in your chrome browser, log in by same gmail which is in playstore.
2. Go to chrome browser and search there 'whatsapp beta program'.
3. Click to first link which will be written as 'Whatsapp beta – google playstore'.
4. Now, scroll down the pages and click to 'become a tester'. (by chance, if this option doesn`t show then refresh this page unless and until the option does not show)
5. As you will click that you will be eligible for beta testing. There will be display as ' welcome to the testing programme'.
6. Scroll down and click to second number in which there will be written as ' install the public version on google play'.
7. Now, you will be direct go to google play store. Now, you can see that name of app will be as 'whatsapp messenger beta'. Downside there will be option to update. so, click to update. (This beta option may be come after 1 minutes,so wait if not come immediately)
As beta version of your whatsapp will be updated,then in downside there will be display ' you`re beta tester for this'. So, now you have joined beta version to set fingerprint lock in whatsapp. ( Change video background in mobile)
set fingerprint lock in whatsapp : whatsapp fingerprint lock update for android
1. Open your whatsapp application.
2. Tap to three dot which is in right corner upper side in whatsapp homepage.
3. click to setting opion and then again click to account option.
4. Click to privacy and then scroll it. you will be display in last Fingerprint lock option. (This option will only show if fingerprint lock will enabled from the setting of your phone. It means to say that your fingerprint screen lock should be enabled.)
5. So, click to Fingerprint lock. There will be display as 'unlock with fingerprint'.
6. click to enable it.
7. Now, There will show confirm fingerprint, so touch your finger in fingerprint sensor of your mobile to confirm.
There will be also available some extra option to adjust fingerprint lock. You can choose immediately, after 30 second, or 1 minutes under the Automatically lock features. It depends on you which you want to choose. if 'immediately' option will be selected then whenever you will open your whatsapp, you have to unlock by your finger.
Hence, now Fingerprint lock has enabled in whatsapp of your android mobile. Enjoy by using amazing features. ( Make your smartphone superfast )
whatsapp fingerprint lock not working
The questions comes that what to do if Whatsapp fingerprint lock is not working ? So, today i well tell solution that what should you do.
1.Remove your fingerprint from setting of your android phone which you have set for your screen lock. When you will be open, there will not need to unlock with fingerprint because fingerprint has removed from your phone setting.
2. Uninstall and again install your whatsapp application. By doing this procedure, your problem may be solved.
3. Clear cache and data of whatsapp app. To do this go to setting and click to all app or manage app. In this you will find all app which are installed in your phone. so, tap to whatsapp and there will be option clear cache & data. ( play youtube in background without any app )
whatsapp fingerprint not showing
Most of them search that whatsapp fingerprint not showing in their whatsapp application. Mostly, this problem comes when the following points are not  enable or available :-
1.Check that whether your android mobile has fingerprint sensor or not ? If not then there is no way to set fingerprint lock in mobile.
2. Make sure that Your fingerprint lock as screen lock should be enabled.
3. Whatsapp application version should be of 2.19. 221 or above. when you will joined beta version in your whatsapp then this version will be added in your whatsapp.
If these following points will be there in your smartphone, then obviously whatsapp fingerprint option will shop.
Steps to check version of your whatsapp :
1.Open whatsapp and tap to three dots.
2. Click to setting.
3. Now, click to help option and again tap to app info.
Now, you can see your whatsapp version.
conclusion :
I hope that this articles helps you to know to set fingerprint lock in whatsapp in your android mobile. I have tried to make you understand in simple word and sentences. Also i have told the solution of the problem which you are getting while setting fingerprint lock. ( Best cooling trick 2020 for android )
So, follow the procedure that i have mentioned in this article. Earlier you have to download any third party application for fingerprint lock in whatsapp. but now features is available in smartphone. This is the most amazing feature in whatsapp.