Do you also want to find or track your lost phone ? If yes then stay reading. First thing I want to clear that you can`t track your any lost mobile through IMEI number by yourself. But it can be possible through someone.It means to say that you have to follow steps of offline.
By the way, you can easily find location of your lost phone through email id. But you should remember your registered email id and password of that which you want to track. Through email, android phone only can be tracked and found.
But if you have cellphone or forgotten email and password then in this case, mobile can be tracked by only imei number. Because in cellphone there is not any option to register email and if you have forgotten password then you can`t change without otp.
For the otp you need number, but your phone has lost with sim card then you can`t get otp. So, we will know that What process should we follow to find our android phone or cellphone through IMEI number. So, let`s know. (get call history & detail of any number)
How to find the lost mobile using imei number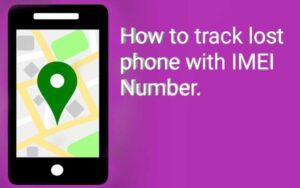 Many of them search and want 'imei tracking' apps. But there is not any real software or apps which can track mobile by imei number. If you search in youtube, then also many of them will tell to download apps. But that is fake videos. So, don`t goes to their direction.The full process can be done by police only.
You have also seen that if someone`s mobile phone has lost or stollen, then they go to police station to register complain. Then, police ask their IMEI Number of your mobile phone. So, mobile number can be tracked with imei through police only. Before knowing full process, you should know that what is imei Number ? So, let`s know (know to forward your calls to another number)
What is IMEI Number ?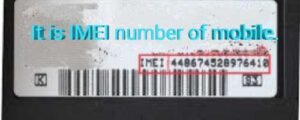 The full form of imei number is International Mobile Equipment Identity. It is the identification number of your mobile. This number you can know by many ways. The benefit is that imei number is present in keypad mobile and you can able to find your keypad mobile also. This imei number is of 15digit. The imei number is unique in all mobile. I want to make understand by giving example. so, let`s know
For Example :- You know that any vehicle has VIN that is vehicle information number. If any things happen then easily can be known detail from this VIN. When you buy a new vehicle, at that time you gives your identification that is aadhaar. When Vehicle number will be searched then details of owner will come. This IMEI Number is same as VIN number. Through IMEI number also all the detail information can be known.
Next question comes that how you will know or find Imei number of your mobile phone. They are by removing your phone`s battery, over packing cover of new phone`s ,by dialling *#06# on your phone. These are the three steps by which you can know IMEI number of your mobile phone. (know to add location in google map for public)
How to track lost mobile with imei number through police station
If your mobile phone`s lost, then firstly you should go to police station to register complain with imei number. When you completed this procedure then your work has completed. Now, work comes for police.
But the next questions comes here that how police trace mobile by imei number ? May be this questions comes to your mind also. So, let`s know that how stolen or lost mobile can be tracked using imei number through police. (what is call barring)
How police track track lost mobile with imei number
The police gives IMEI number to all telecom operator such as idea, airtel, reliance jio, BSNL, vodafone etc. Police tell them to track that imei number, if sim card is being used of your company.
This work you can`t do directly. Police has the power to ask information about tracking of mobile and there is the responsibility of telecom operator to give information.
All the information they can track about their operator of sim card details.The telecom operator of all company puts that imei number in surveillance. if their operator`s of sim card is matched to imei number, then they can easily find that number of sim card which is being used in that stolen mobile.
Through mobile number everything detail can be known. I have already given example that when you buy a new sim card, then you have to give identification number. You know that all the detail information about your address and names are in your identification card that is aadhaar card.
Your identification details are stored in database of telecom operator. Through this, location can be find easily . Also by mobile number only telecom operator can able to check live location.
Through this police can go in which location mobile is kept or being used. So, all the detail information telecom operator gives to police station. Through this police can catch thief and take mobile phone from theif.
By this process you can get your lost mobile. There is not any process by which you can track lost mobile with imei number online. So follow this process to get your stolen any mobile through imei number. (know to install software in android)
Conclusion
I hope that you have understood that how to track lost mobile with imei number through police station. So, in future if your mobile lost then follow the steps which i have mentioned above. I have tried to make you understand in simple ways. If anything missing or you are getting problem, then contact me.
If you know email and password which is registered in your smartphone then you can track live location by find my device website. you can aslo download app from playstore. Just enter into this site and sign in your email id. You can able to reset your lost android phone. Also you can able to play sound or can track live location. This site and app is of google.