You have also seen in your mobile about call barring setting. But many of them don`t know about this setting. So, we will know that what is call barring ? Many of them know about this setting but when they try to use, then it ask password. So, we will also know about that how to get call barring password ?So, all the related query from this setting I will tell you.
All the smartphone users should know about this setting and how to use call barring ? sometimes you also want such that any one can`t able to call you. So in these case, this feature will be use to stop or block incoming call. Many of the people search that how to block incoming calls ? All the blocking call facility are available in this setting.
Sometimes also you need or want that anybody can`t make call through your mobile. So, in this case you will need to to stop outgoing call through this setting So, let`s know full guide about this.
what is call barring ?
It enable us to to stop or block all outgoing calls, all incoming call and all international call. This setting is available in all mobile such as Android, IOS (iPhone operating system), cell phone (keypad mobile) etc.
Don`t confuse about incoming and outgoing call. When other people call in your mobile that is incoming call and when you call to someone that is outgoing call. International call is that call which comes from outside of your country.It ask default password of your phone.
what is call barring password ?
When you will use this feature to stop outgoing or incoming call , so you will need turn ON/OFF  incoming/outgoing. So, to turn or off, you will need call barring password. It is very important to know about this password. Many of them don`t know their password of this setting.
Mostly, if they have airtel  sim then they will search that "call barring password airtel" in internet or somewhere. They think that this password is related to their sim card.
But i want to tell you that password of call barring has not any connection from your sim. You can contact to customer care that Is sim card has any connection to call barring password? Surely, they will tell you hat no.So, It has the connection to your device.
[
How to install software in android mobile
]
How to find call barring password ?
When you buy a new phone that time your call barring password will be default. To know the default password. you can search to internet. For example:- If you want to want to find default code of  samsung, then search internet that "call barring password samsung".When you will search, you can know password as well as also that how to use it?
Mostly in all mobile the default password is 1234 or 0000. If  this default password doesn`t work then you can know by above method which i have mentioned above from internet.
[
Best ways to play youtube in background without any app and chrome browser
]
How to use call barring setting ? How to turn on/off call barring in phone?
Every mobile has the features of this barring setting but to find this setting the process is different in all mobile. Basically you know that all the mobile has same function & setting  but to find setting process is  different  Such as sansung setting is other than mi phone. So, here the process to find this barring call is of mi phone. So, let`s start step by step:-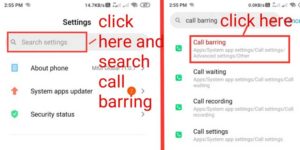 1. Open the setting of your mobile. In easy way to find this setting, search there as shown in picture and click to it. In all phone this "search setting" option is available. But in case if there is not search option in your mobile then go to call setting and under there will be call barring setting.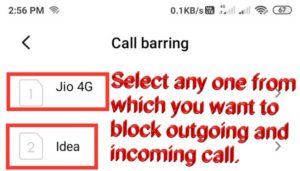 2.If you have put two sim card in your mobile, then select the sim that from which  number you want to block incoming or outgoing or international call.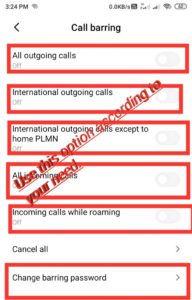 3.Now, all the option will be available there.
4. You can activate or deactivate all features according to your need.
How to block all incoming calls ?
You can easily block your incoming calling service through the help of call barring. All the points are given below.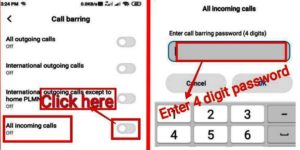 1.  Just click to switch icon of all incoming call. Enter the default password of your phone and click to ok.
2.As you will click ok  then it will display updating setting as shown in images. Hence your incoming call has blocked. To deactivate click that switch icon and enter password and press ok.
[
Android tv remote contro
l]
How to block all outgoing call ?
Follow the same  procedure as mentioned in previous paragraph. just follow outgoing call instead of outgoing call. Same default password will be used in all option.
You can also activate or deactivate outgoing calling service through dialing some code. Every mobile and in all sim card this code will work. To activate outgoing barring.  Go to phone dialer and type *31#. As you will type this your outgoing call will be blocked. To disable it dial again *31#.
[
best mobile recharge commission app 2020
]
How to change call barring password?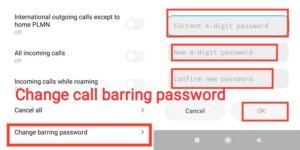 1.click to change barring password.Enter current password. Enter your own new password which you want to set and again enter same password as confirm password.
2.Enter ok. (according to option available in your device).
[
Best cooling app for android 2020
]
Conclusion
Hence i hope you have understood that what is call barring and how to turn on off call baring.And also your doubt has cleared about password of this setting . If you want to know detail about this then you can read from wikipedia site. So, latest technology all information will be shared to you through this website. Stay connected with us.